Orillia Pest Control Secrets – What Brings Raccoons To Your Home?
Okay, we accept it. Raccoons are cute. Almost cute enough to seem like a great pet. But, they are wild animals. And not to be domesticated. While you won't want them in your home, they sure do love your home. That's why they frequently pay unwanted visits. These omnivorous 'Garbage Pandas' are voracious eaters. They have a very strong sense of survival. They'll do whatever it takes to feed themselves and their young. But the raccoons are not the only ones to blame. It is also possible that your house might be attracting them. If you are also making these same mistakes, you might have to get Orillia pest control again and again, along with suffering the damage that raccoons can cause.
Orillia pest control: Some of the things that bring raccoons to your home, and how to avoid them:
Bird Feeders: While they are for your winged friends, raccoons can climb trees and steal the meal.
Solution: Put your bird feeders in non-climbable places. Poles are a great option instead of trees.
Chicken Coop: Raccoons won't mind munching on your chickens and their eggs. Your backyard coop is an invite for a hearty meal.
Solution: Keep your coop at least 2 feet above the ground and use complex locks and latches.
Backyard Aquarium: Your fish tank is a complete meal box for raccoons, and they won't leave anything in there if they find it.
Solution: Install sprinklers in your backyard to keep raccoons from raiding the area.
Garage and Garbage: One man's trash is another creature's treasure. For raccoons, your garbage and garage storage unit is a treasure like no other.
Solution: Keep your garage clean, close all possible raccoon entry points, and make sure your garbage bags are packed, and the bin is sealed in the right way.
Dog House: No, no raccoons don't want the infrastructure. They are after the pet food. A yummy treat. When they see your pet, they might not always leave, and even cause harm to your pet.
Solution: Keep your dog house at a place where raccoons cannot reach it. Don't leave extra food in there.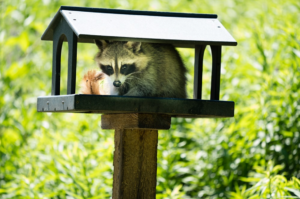 Now, if you already have unwittingly invited a family of raccoons to your place, you'll need Orillia pest control to bid them goodbye. As an honest and dedicated Orillia pest control company, we make sure that you get rid of the raccoons. But don't worry. We promise humane wildlife removal.
If you have any other questions about our Orillia pest control services, or would like to schedule a removal, just give us a call.