Raccoon Removal Barrie – 4 DIY Strategies You Must Know
Wildlife infestation is quite common during winter. Just like you want to stay in your warm and cozy house, wildlife creatures also look for a comfy and warm place. Your house is the most attractive, and safe place to stay for these creatures too. One of the common wildlife creatures that can be seen lurking around your property looking for a place to nest are Raccoons. Mostly female raccoons search for a warm place to nest with her family. Therefore, you must know about some DIY raccoon removal Barrie strategies.
Although, we also suggest you call us at Simcoe Muskoka Wildlife Removal for humane and permanent wildlife removal solutions to get rid of these pesky creatures. As a homeowner, you must have the following strategies in place that will help you with raccoon removal Barrie. Let's begin.
Raccoon Removal Barrie – 4 DIY Strategies:
Motion-Activated Sprinklers: If you have a lawn, make sure to install motion-activated sprinklers.These sprinklers will initiate as soon as they sense motion, even if it is from a family of raccoons.This will help you keep these creatures away from infiltrating your home.
Motion-Activated Lights: Don't forget to install motion-activated lights near your garden beds, or fruit trees.These large lights will get activated on motion, and aren't easy to block. Motion-activated lights will help you keep raccoons away from your property. But if you find raccoons still making their way to your property to infest your home, don't forget to call us at Simcoe Muskoka Wildlife Removal for raccoon removal Barrie services.
Securely Fasten Food Sources: As you may know that food sources are the best attraction for raccoons. So, to keep raccoons away, always securely fasten your trash cans and compost bins. This is not it though! Raccoons can also gnaw their way into your trash cans, so make sure to use raccoon repellent. Also, make sure to keep your garden beds, pet food, and bird feeder secure to prevent raccoons from eating their way to your property.
Repair Your Home: As a responsible homeowner, make sure to repair your home.Raccoons are known to enter your home from obvious points of entry, such as your chimney or holes in the wall. Repair these spaces immediately!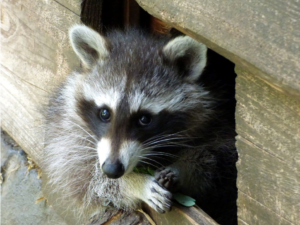 If you have already put these strategies in place for raccoon removal Barrie, but still suspect an infestation, it would be wise to give us a call at Simcoe Muskoka Wildlife Removal right away. We at Simcoe Muskoka Wildlife Removal have been tackling the issues of wildlife infestation since 2009. We have made it our mission to help homeowners for efficient and humane raccoon removal Barrie services, along with pest control for birds, squirrels, rats, and other large pests.
Contact us now!