Wildlife Removal Orillia Experts – Struggling with Snakes at Home?
Wildlife Removal Orillia. Red touch yellow kills a fellow. Red touch black, friend of Jack. It is possible that you might have heard this rhyme as a child. It is simple for identifying which type of snake is poisonous and which is harmless. But, when the situation actually arises, it gets really tough to identify a snake's type. You are of course, in a state of panic, you don't have time to follow the rhyme. By the time you can memorize the jingle, and jog your memory upon seeing a snake, it might have bitten you already. Also, when in Ontario, the only poisonous snake you'll find is the Mississauga Rattlesnake.
Also, even if the snake isn't poisonous, you don't want it in your home. But, if you try to get rid of the snake on your own, you should know that it isn't going to be easy. You may be surprised to know that most snakebite accidents happen when people are trying to shoo away or kill the snake. The best thing to do when facing a snake is to retreat. Go to a safe space and leave the snake alone. Found it in Room-1, go to Room-2 and lock the former. Found it in the attic? Go to your room, and close the entrance to the attic. While chances are your uninvited guest has a hidden entry route already mapped out, it is still better to avoid direct confrontation.
And while you have left the snake along, here's what you should do.
Wildlife Removal Orillia – What to do about a snake: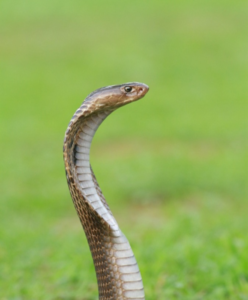 When you give us a call at Simcoe Muskoka Wildlife Removal, we will make sure that you get rid of the snake; humanely. While the jingle for academic recognition of snakes is good, when you have an option to call experts, do that. What? You are worried about wildlife removal service providers killing an innocent animal? That isn't going to happen with us. We promise humane wildlife removal Orillia. This means it is not just wildlife removal but also relocation that we offer. Plus, we will also make sure you don't face the hassle again. First, we will offer you effective and humane wildlife removal Orillia services. Once that is done, we will make sure all preventive measures are in place.