Pest Control Barrie Ontario – Follow These Four Measures
When you live in Canada, you are probably familiar with the incidences of animal infestation, especially during winter. If you think that an animal will not infest your house, think again! Animals such as raccoons, rats, squirrels, birds, and others are notorious at making their home in your home. If you find such notorious beings in your home, don't forget to call our outstanding pest control Barrie Ontario at Simcoe Muskoka Wildlife Removal. We will ensure that the animal is removed from your premises safely without causing any injury to the creature, or unnecessary damage to your home.
But before you call our pest control Barrie Ontario services, you can take certain measures to reduce the incidence of animal infestation on your property.
Pest Control Barrie Ontario – Reduce the risk:
Clean Your Home: Yes, the first measure you can take to keep animal infestation away is to clean your entire home.Cleaning your home doesn't just mean superficial removal of dust and dirt. If you want to keep animals from infesting your home, try to reach deep corners and rooms.Don't forget to clean your attic also! Animals are very sneaky, and make your attic their residence. So, clean that room too.
Dispose of Your Garbage: Don't forget to dispose of your garbage right away. This is not just for the outside of your house, but also for the inside.Don't let garbage bags sit in front of your home. If they do, it is a clear invitation to animals to infest your home.If this happens, you will need efficient and professional pest control Barrie Ontario services.
Don't Let Food Lie Around in Your Kitchen and Home: Food is like a magnet that attracts all pests, including wildlife.Leave a line of food crumbs in your home, and critters will follow them to infest your space. So, regularly vacuum the house to remove any food particles or crumbs that can be a potential attraction to these animals.
Repair Your Home: Don't forget to repair your home. Animals can enter your home from the tiniest of holes.So, get your home checked by a professional to identify any entry points. If you do, make sure to repair them right away.Neglecting these repairs can cost you a lot!
Even after repairing your home, if you suspect an animal infestation; you can call us at Simcoe Muskoka Wildlife Removal for a humane solution to pest control Barrie Ontario.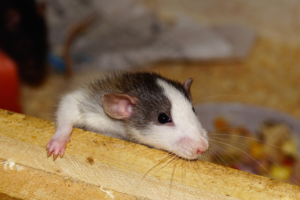 These four measures if followed diligently will help you keep any animal from entering your home. But not every measure is fool proof, and if you want a pest inspection of your home, you can always rely on us. We at Simcoe Muskoka Wildlife Removal have been in the business of pest control Barrie Ontario since 2009. We make sure to use humane and permanent solutions for removing any wildlife from your property. Call us now to know more!